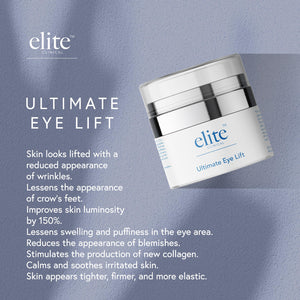 Ultimate Eye Lift
This potent fragrance-free lightweight eye treatment is formulated with peptides, stem cells, and natural antioxidant extracts like green tea, pomegranate, and red algae. 
It helps promote the creation of healthy, youthful-looking skin while maintaining its integrity, resulting in a firmer, more compact skin feel. 
With caffeine and licorice root, this rich lightweight gel cream also aids in improving the appearance of eye bags and crow's feet so the entire eye area will seem brighter, more illuminated, and have a more youthful, refreshed, and less tired look.
Benefits
Skin looks lifted with a reduced appearance of wrinkles.
Lessens the appearance of crow's feet.
Improves skin luminosity by 150%.
Lessens swelling and puffiness in the eye area.
Reduces the appearance of blemishes.
Stimulates the production of new collagen.
Calms and soothes irritated skin.
Skin appears tighter, firmer, and more elastic. 
Skin looks more youthful, with a uniform and brighter complexion.
Markedly reduces the appearance of under-eye dark circles.
Diminishes the look of under-eye bags.
Infused with powerful antioxidants that help reduce the signs of ageing.
Enhances the quality and consistency of the skin's surface.
Boosts moisture content in the skin.
Apply a small amount of product to the eye area. Massage gently. Avoid contact directly with the eye.