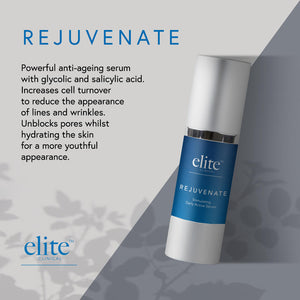 Elite Rejuvenate Daily Active Serum
Formulated with Alpha Hydroxy Acids (AHA's) to gently remove build-up of dead skin cells, Rejuvenate increases cell turnover to reveal  fresher, younger-looking skin. It also helps to control microbial growth, breakouts and the appearance of pigmentation, fine lines and wrinkles.
Benefits
Powerful anti-ageing serum with glycolic and salicylic acid.
Increases cell turnover to reduce the appearance of lines and wrinkles.
Unblocks pores whilst hydrating the skin for a more youthful appearance.
Apply after cleansing by gently massaging onto areas of concern, avoid eye area. Protect50 must be worn daily when using this product.