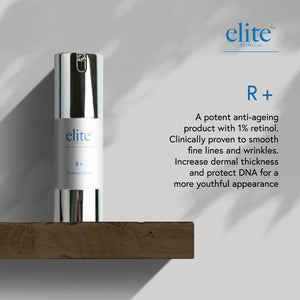 Elite R+ 1% Liposomal Retinol Serum
A powerful and highly effective serum containing 1% Retinol, a stabilised form of Vitamin A derivative, which helps to increase cell turnover. R+ will also help minimize pores and reduce the appearance of fine lines and pigmentation, resulting in firmer, younger and more even-looking skin.
Benefits
A potent anti-ageing product with 1% retinol.
Clinically proven to smooth fine lines and wrinkles.
Increase dermal thickness and protect DNA for amore youthful appearance.
Use as directed by your skincare specialist. Use at night time only. Please observe the listed warnings when using this product.