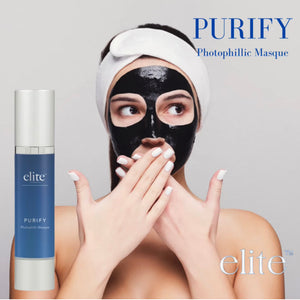 Purify Masque
 A weekly purifying masque containing activated coconut charcoal, long celebrated for its detoxifying benefits, will help cleanse and remove the build-up of pollution and other ageing molecules ever present in modern life. This indulgent, at home treatment, also contains Kojic acid, a natural ingredient clinically proven to help lighten and leave a more youthful clear complexion for your busy week ahead.
Product Benefits:
Sunday night treat to prepare skin for the week ahead.
Activated coconut charcoal to absorb toxins, draw impurities , calm and hydrate tired skin.
Kojic acid to lighten and brighten for a more vibrant complexion.
Apply generously to cleansed skin on face and neck and leave for 10-15 mins. Wash with warm water and Prepare daily cleanser.