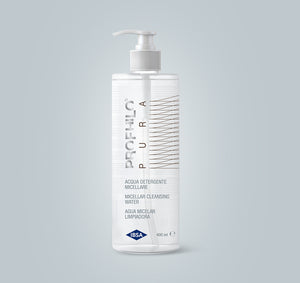 Profhilo Micellar Cleansing Water
A multipurpose skin care product to remove make-up and impurities from the face, eyes, and lips.
thanks to the active ingredients, purified water, moisturiser and mild surfactants, it provides a complete action:
Removes impurities and polluting particles from the skin.
Removes make-up from the face and eyes while respecting the skin's pH.
Soothes and moisturises.
Maintains the skin's natural balance.
Helps to promote skin hydration while reducing irritation and inflammation, keeping your skin soft, supple, and smooth.
No rinse treatment with allergen-free fragrance that leaves the skin feeling pleasantly fresh and moisturised. Ideal for all skin types.