x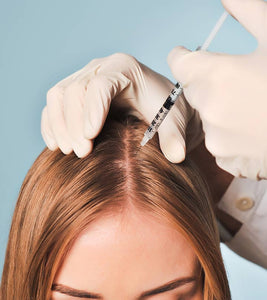 IPRF Hair Restoration
£20000

£200.00

Save £100
Tax included.
CLICK HERE TO BOOK NOW
---
---
i-PRF works on areas with hair follicles that are not dead, but rather dormant. i-PRF can activate dormant hair follicles, leading to growing hair and thicker hair.
Hair regrowth usually takes about 3 months to notice an effect.
Blood is drawn from the arm into tubes, usually about the same amount as needed for typical lab testing. The tubes of blood are placed in a centrifuge for a few minutes. The i-PRF is then ready for injection.
Your scalp is washed and topical or local anesthesia may be applied to reduce any brief discomfort. Next, i-PRF is injected directly into the scalp in multiple areas of thinning hair. Patients can often return work soon after treatment.
Treatment time 60 mins 
We recommend 4 treatment 14-28 days apart 
Maintenance and prevention 
We recommend 3-4 monthly