x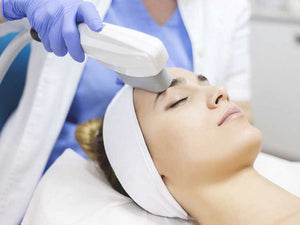 IPL Skin Tightening Face
£6500

£65.00
Tax included.
CLICK HERE TO BOOK NOW
---
---
Intense Pulsed Light (IPL) Therapy is a gentle, safe and effective treatment to improve the appearance of many skin irregularities. This advanced light treatment can help to treat rosacea, thread veins, spider veins, uneven pigmentation, sun spots, sagging skin and many common signs of ageing. IPL treatment at Elite Aesthetics can provide an incredibly targeted treatment, focusing only on the areas of concern.
IPL uses a range of wavelengths that penetrate just below the skin's surface where the melanin absorbs the light. This causes damage to the pigment forcing the skin's natural defenses to come to the rescue. The body instinctively works to remove the damaged melanin and also releases repairing collagen at the same time. These two actions can produce incredible results to the appearance and texture of the treated areas.
IPL treatment usually takes around 45 minutes. During this time, most clients say they usually experience a mild 'pinging sensation' as if being flicked by an elastic band. You can return to your normal daily activities directly after treatment. A patch test may be required prior to your first treatment. Whilst improvement can be seen following 1 treatment, a course of 6 sessions is usually recommended for optimum results