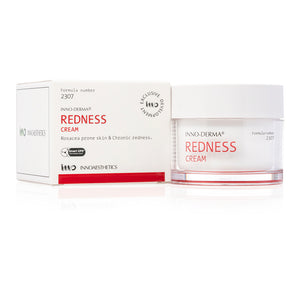 Innoaesthetics - Redness (Home use)
Prevents and reduces skin redness and vascular spiders
Facial moisturizer for hyper-reactive and couperose-prone skin. Its calming properties help to regulate microcirculation, preventing and reducing skin redness and inflammation.
Active ingredients
Flavonoids, Saponosides, Procyanidins, Shea Butter, Dextran Sulfate, Lactobionic Acid, Smart GPS®.
Indications
Redness-prone skin.
Vascular spiders on face.
Benefits
Prevents redness and inflammation.
Smooths the skin.
Helps to even the skin complexion.
How to apply
Apply morning and night on clean and dry skin.