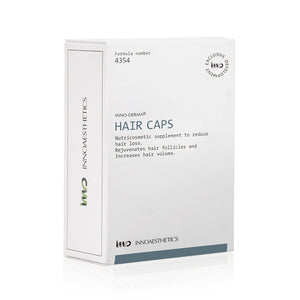 Innoaesthetics - Anti Hair Loss Caps (Home Use)
Boosts hair growth and reduces hair loss
Supplements that stimulate blood flow in the scalp and promote the nutrition of hair follicles. They effectively promote hair growth and prevent its fall.
60 tablets
Active ingredients
Saw Palmetto, Vitis Vinifera, Bambusa Vulgaris, Fenugreek Extract, Phytosterols, Taurine, L-Arginine, Vitamin B5, Biotin, Zinc.
Indications
Complements hair loss treatments. 
Benefits
Slows down and reduces hair loss. 
Promotes hair growth. 
Strengthens the hair. 
Dosage
Take 2 tablets per day, preferably with meals.