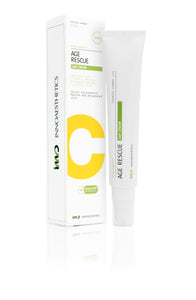 Innoaesthetics - Age Rescue 24H Cream (Home Use)
Intensive cream for skin rejuvenation
Powerful  cream with Hyaluronic Acid for skin rejuvenation. It promotes the synthesis of skin proteins like collagen and elastin, thus reducing fine lines and wrinkles. Ideal for mature and dehydrated skin.
50g
Active ingredients
Hyaluronic Acid, Vitamin C, Retinol, Biomimetic Peptides, Lactobionic Acid, Smart GPS®.
Indications
Skin aging.
Dehydrated and flaky skin.
Benefits
Attenuates fine lines and wrinkles.
Improves skin hydration and firmness.
How to apply
Apply at night, following professional advice. Use after cleansing the skin with INNO-DERMA® Soft or Deep Cleanser.