x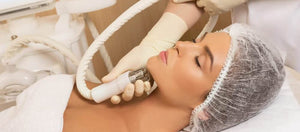 Fraction Million Dollar Makeover
£18000

£180.00
Tax included.
CLICK HERE TO BOOK NOW
---
---
Fractional  Million Makeover FMM are part of an exciting new phase of aesthetic procedures and technology; they are the next generation moving on from fillers, facelifts and anti-wrinkle injections which, as we all know (in the wrong hands) can leave the face looking too "done", puffed-up or just weird. The brilliant thing about these new procedures is that you still look exactly like you - just fresher, smoother and slightly airbrushed
FMM introduces a new dimension in the medical Micro-Needling procedures, in which the tightening and skin rejuvenating effect of Mico-Needling are utilised. The treated areas are oriented to the surgical facelift,  pain free needling is on a large-scale and they can be combined with chemical peels . 

The micro-needling procedure that create over 1 million micro-channels over face, neck , décolleté and scalp it's known as the Fractional Million Makeover (FMM).This creates a the large-scale increase of collagen and elastin around the structural points where facial lifting and toning is activated, facial features and contours become visibly firmer and tautened. Therefore extensive tightening is achieved resulting in a natural lifting of the face neck and décolleté with a  youthful  glow to the skin 

Treatment time 60-70mins 

This can be a standalone treatment or a course of 6 treatments every 2-4 weeks