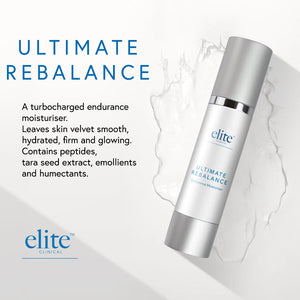 Elite Ultimate Rebalance
This luxury silky moisturiser contains clinically proven ingredients to keep your skin optimally hydrated and in peak condition. Ultimate Rebalance contains tripeptide-1 and tetrapeptide 7, biomimetic peptides to help stimulate growth factors and collagen synthesis, to protect and help restore the skin's natural moisture barrier and suppress inflammation. Natural tara seed extract works deep within the skin to boost moisture levels and help prevent future dehydration. It's also high in vitamin C and B.
Product Benefits:
A turbocharged endurance moisturiser.
Leaves skin velvet smooth, hydrated, firm and glowing.
Contains peptides, tara seed extract, emollients and humectants.                          Lightweight and comfortable to wear alone or under makeup.
Biomimetic properties to stimulate growth factors for an even more youthful appearance.
Apply to clean skin by massaging over  face and neck until absorbed, avoiding direct eye contact. Re-apply as required.