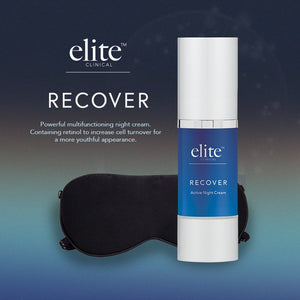 Elite Recover Active Night Cream
Provides much needed care for your skin to help it recover from the stresses of the day whilst you sleep. Recover was specifically developed to re-hydrate and promote overnight recovery, revealing a softer more youthful appearance for the new day ahead.
Benefits
Powerful multifunctioning night cream.
Deep hydration with humectants, ceramides and emollients.
Peptides protect cell membranes for potent anti-ageing results.
Retinol increases cell turnover for a more youthful appearance.
Apply nightly by gently massaging a small amount onto cleansed skin over face and neck areas. Avoid direct eye contact.