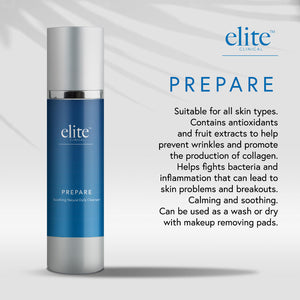 Elite Prepare Cleanser
Formulated with natural skin calming properties and fragrant sweet orange oil to care for your skin whilst cleansing dead skin and toxins naturally. The anti ageing cleanser also contains jojoba oil which has been clinically proven to have beneficial antioxidant and skin softening properties.
Apply to damp skin, massage gently, and remove with a damp cloth or in the shower. Rinse well and pat dry.
Product Benefits:
Suitable for all skin types.
Helps fights bacteria and inflammation that can lead to skin problems and breakouts.
Can be used as a wash or dry with makeup removing pads.
Contains antioxidants and fruit extracts to help prevent wrinkles and promote the production of collagen.
Calming and soothing.