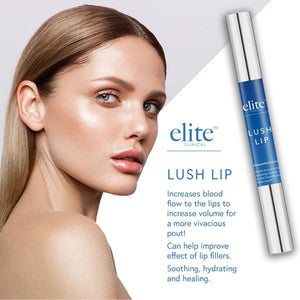 Elite Lush Lip
Intensely nourishing, with collagen stimulating peptides, this powerful vasodilator encourages blood flow to enhance and volumise lips. It is packed full of hydrating and protecting ingredients to help improve the shape, volume, tone, texture and condition of the lips. Can be used with or without lip fillers for a near instant improvement on demand.
Product Benefits:
Increases blood flow to the lips to increase volume for a more vivacious pout! Can help improve effect of lip fillers.                 
Soothing, hydrating and healing.
The perfect product for InstaLips.
Directions: Apply evenly to lips before applying lipstick. Apply generously to the Cupid's bow for a fuller result!