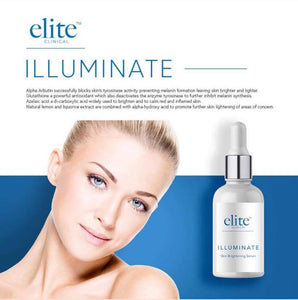 Elite Illuminate Skin Brightening Serum
Contains the natural clinically proven AHAs - Glycolic and Citric Acid - to gently remove the build-up of dead skin cells, together with Salicylic Acid to remove impurities and excess oil.

This combination will cleanse the skin and increase cell turnover revealing new younger-looking skin, while preparing the skin for your daily skincare regime.
Benefits
Gently foaming for a deep exfoliating clean.    
Removes excess sebum, unblocks pores and congestion. 
Increases cell turnover.
Reduces pore size and helps prevent folliculitis barbae and other breakouts. 
Massage onto dry skin. Leave on the skin for a few minutes to get to work before rinsing with warm water and patting dry. Protect50 or Protect20 must be worn daily when using this product.