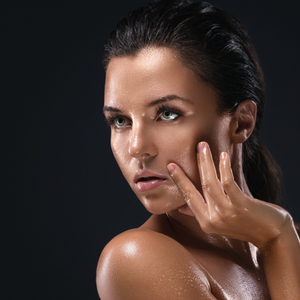 Elite Glass Skin Facial
Unleash Your Real-Life Selfie Filter for Perfect Skin
Discover the Secret to Glowing, Smooth Skin That Lasts
Introducing the exclusive Elite Glass Skin Facial, curated by Emma @ elite. This cutting-edge facial treatment is your path to radiant, flawless skin that endures. In just one hour, experience a remarkable transformation, reducing pores, diminishing redness, and increasing hydration – it's like having a real-life selfie filter. Best of all, the effects of the Elite Glass Skin Facial last for over 4 weeks, with no social downtime.
What is the Elite Glass Skin Facial?
Our Glass Skin Facial combines resurfacing techniques, employing a mandelic peel, a custom blend of nourishing agents delivered through ultra-fine micro-needles, and the power of Dermalux light therapy. This meticulously designed treatment stimulates collagen production, reduces fine lines, addresses pigmentation issues, combats acne, and refines skin texture. It's essential to note that this treatment is not aimed at managing oily skin, which is the specialty of our Aqua Gold Tox facial. The unique process ensures precise product delivery to the correct depth for comprehensive facial correction and cumulative long-term improvements.
Am I A Good Candidate For Glass Facial?
If you aspire to enhance skin texture, minimize the appearance of pores, or simply achieve luminous, smooth skin, the Elite Glass Facial might be your ideal solution. It's important to note that if you have metal allergies, including gold, this treatment might not be suitable, as our fine needles are made from stainless steel with gold accents.
What is a Typical Treatment Like?
Prepare to embark on a journey of rejuvenation with our Elite Glass Facial. The process begins with the application of our powerful Mandelic peel, known for its impressive antibacterial properties. This, coupled with its gentle exfoliating prowess and cell-turnover-activating abilities, sets the stage for a remarkable transformation.
Our virtually painless micro-needles, finer than a human hair, work their magic by gently infusing a vitamin cocktail into your skin. This meticulous treatment employs fractional rejuvenation, reaching depths of about 0.6mm, ensuring a gentle and precise approach. It's a process that respects your skin's sensitivity while working wonders.
As the treatment unfolds, full-face resurfacing takes center stage, refining your skin to achieve that highly sought-after glass-like quality. And to elevate the experience even further, the power of Dermalux LED light Therapy is harnessed, leaving you with skin that truly shines.
What Results Will I See?
Prepare to be amazed! The Elite Glass Facial serves as a real-life selfie filter, with immediate results such as reduced pores, fine lines, redness, and deep skin hydration. Our carefully crafted ingredient blend is proven to boost collagen, minimize fine lines and wrinkles, correct pigmentation, and enhance skin texture. These effects are not just temporary; they accumulate over time. Expect to see results right away, with the benefits persisting for four weeks or more, continuing to improve.
For Optimal Results
For the best outcome, we recommend a series of one facial per month for three months, followed by maintenance sessions on a quarterly or semi-annual basis, tailored to your skin's unique needs and goals.
Is There Any Downtime?
There is no social downtime with the Elite Glass Facial. You may experience slight erythema (redness), but your skin will have a radiant glow. Within the next two days, you'll be red carpet-ready. Feel free to schedule your Aesthetic laser, energy, injectables, or other facial treatments 1-2 weeks before or after your Elite Glass Facial for a truly comprehensive beauty experience.
RRP £300
A course of 3 £500 save £400
Christmas intro offers must £120 1.11.23-24.12.23