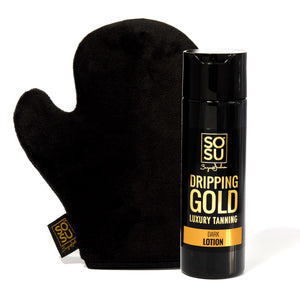 So Su Dripping Gold Luxury Tan - Dark - Lotion
THE PERFECT DARK LOTION TAN BUNDLE
Dripping Gold Dark Lotion 
Dripping Gold Luxury Velvet Tanning Mitt
A intense deep tone, enriched with Shea Butter and Coconut Oil, this tanning lotion is easy to apply and packed with hydration for maximum skin health and a natural fade. 
Our Dripping Gold Luxury Tanning Lotion is the tan you've been waiting for. Slay day or night and DRIP GOLD in every light.  
Suitable for face & body. 
Extracts:
✔ Hyaluronic Acid
✔ Vitamin A  
✔ Vitamin E
✔ Goji Berry
✔ Chamomile
✔ Tropical Scent 
 
Proud to be:
✔ Cruelty Free
✔ Paraben Free 
✔ Vegan Friendly 
Size: 200ml 
Top Tip: Use with your SOSUbySJ Luxury Tanning Velvet Mitt for a streak-free application.