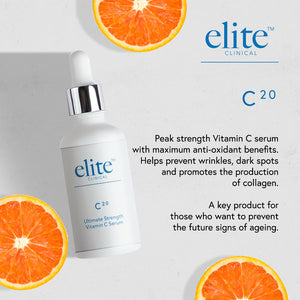 Elite C20 Vitamin C Serum
A light serum with a high concentration of Sodium Ascorbyl Phosphate, a Vitamin C derivative with superior stability.  It is a powerful anti-oxidant and a free radical scavenger. Supported with Ferulic Acid, it will help protect from photo damage, even out the skin tone, improve skin firmness and reduce the appearance of age spots, for beautiful healthy-looking skin. 
Benefits
Palm Free, Less Viscous, No residue, Quickly absorbed, Stabilised and Presented in a Dropper Bottle.
Peak strength Vitamin C serum with maximum anti-oxidant benefits.
Helps prevent wrinkles, dark spots and promotes the production of collagen. 
Helping to prevent and delay the signs of ageing from harmful environmental damage, toxins, pollutants and solar radiation.
A key product for those who want to prevent the future signs of ageing.    

 
Apply to cleansed skin, avoiding direct eye area. Follow with your Protect50 or Protect20. Use morning and night.