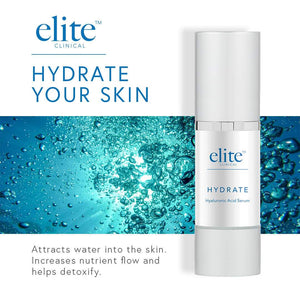 Elite Hydrate Hyaluronic Acid Serum
Our Hydrate serum contains natural hyaluronic acid, a powerful humectant to attract moisture into your skin. Hydrate is suitable for use in all skin types and absorbs quickly to hydrate and keep skin supple. This active serum will help reduce the appearance of fine lines and wrinkles whilst promoting an even skin tone and a youthful complexion. Optimal skin hydration helps to heal and soothe inflammation.
Product Benefits:
Powerful high concentration hyaluronic acid, humectant to attract moisture from the blood vessels into the skin.
Increasing skin hydration and volume for a younger fresher appearance.
Increases the flow of nutrients between cells and helps to flush out toxins for a healthier complexion.
Use once a day after cleansing with Prepare, Reveal or Claro. For external use only.